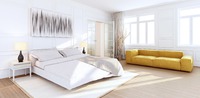 After turning SOMAVEDIC on I'm tired and I'm not feeling well. What should I do?

Insufficient drinking is a common cause. It is ideal to buy bottled water (6 x 1.5 litres of still water) and drink 2 - 3 dcl of water with lemon every morning at 6 o'clock or as soon as you get up. Drink the rest of the bottled water that day. It will also be ideal to place bottled water near SOMAVEDIC. Water washes load out of the body and the overall course of detoxification will be much more pleasant and effective. Beware of coffee that strongly drains the body and therefore you need to drink treble the amount of water.
Should SOMAVEDIC be turned on all the time?

For maximum effect the device should be switched on as constantly as possible. Current power consumption is minimal - it does not exceed 1 kWh per month which at current electricity prices is approximately CZK 5.
Isn't uranium glass harmful to health?

Obtained detailed data on uranium glass production (amount of glass, uranium content in different batches and purpose of use of individual types of glass) and SÚJB (State Institute for Nuclear Safety) investigations clearly show that legislative criteria to protect individuals and society from harmful effects of uranium glass uses are not exceeded in the Czech Republic. Somavedic glass are manufactured by the LASVIT AJETO glassworks in Lindava where the production complies with all safety standards required by law.
How does the device distinguish beneficial bacteria in the body from those non-beneficial ones?

Everything that exists has its specific frequency including bacteria. When a specific frequency is programmed into SOMAVEDIC only bacteria with specific low-energy radiation are "targeted" and subsequently eliminated. All other bacteria (at other frequencies) will not be affected by the device.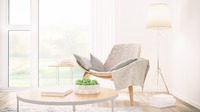 Where is the best place to put Somavedic?

The ideal location is in the middle of the apartment in the case of an one-storey family house it is on the ground floor. Sometimes SOMAVEDIC "tells itself" or one intuitively senses where to place it. At the beginning (first week) we do not recommend placing the device under the bed or at a distance of less than one meter from it. Complications with falling asleep could occur.
Why is the lifespan of SOMAVEDIC as it is?

This is the expected lifespan based on the "durability / lifespan" of all materials used and the sustainability of the energy potential for 100% SOMAVEDIC operation.
What happens to the device after five years of usage?

For devices manufactured since 2015 a five-year guarantee of functionality and efficiency applies. If all the LEDs are lit SOMAVEDIC works 100% even after this time. If the customer wants, the device can be sent to the manufacturer for inspection and testing at any time.
Isn't the price for the devices too high?

The quality of our products is essential for us so we invest the appropriate resources in their production. SOMAVEDIC devices are all handmade in the Czech Republic most of them are made of hand-blown glass. Great investments were long-term development and research in our country and abroad and the subsequent acquisition of international certificates. Other expenses of our company, which are reflected in the price of products, include labour costs, costs for logistics services, a significant part of which are taxes. The price also includes an extended warranty for 5 years.
Does SOMAVEDIC eliminate viruses, bacteria and parasites in its surrounding, or in our body or in both?

SOMAVEDIC protects the human body at the cellular level i.e. in body.
SOMAVEDIC'S effects are reaching to our neighbours. Won't the device have an impact on them against their free will?

Primarily it is necessary to think about what the term "free will" actually means. The definition of free will is as follows: it is the possibility for a person to act on the basis of his own decisions which are not decisively influenced by other (external) factors. However, quantum physics says that we are all part of a quantum field. This field contains all the information from the beginning of the ages. It is a field where we are surrounded by interacting particles and energies that can transmit and share information over infinitely large distances with zero-time delay. In quantum physics space and time as we know them do not exist. So everything is connected to everything, everything is connected to everything!
It is clear from this theory that there are no coincidences and that everything always happens for a specific reason. So if we decide to place the SOMAVEDIC at our house, which with its effects reaches its neighbours, it is clear that they should be within the scope of its operation too.
Is the quality of "Atlantic" water degraded by boiling?

Unfortunately, the structure of "Atlantic" water changes with boiling so it is better to boil the water first (tea, coffee, etc.) and then let it be treated for 5 minutes with the Atlantic, Uranus, Amber or Gold model.
Can stones be removed from the device, cleaned and charged in the sun?

The stones cannot be removed and it is not even needed. By connecting to the mains they are constantly connected to the ground to their original natural environment and energy cleaning and charging therefore take place automatically on the fly.
---
Did not you find what you were looking for? Do not hesitate to contact us.

Phone: +420 840 800 700, +420 725 178 150
E-mailem: info@simplysomavedic.cz